Features and Overview
The MSI S271 is definitely not a high-end laptop, even though it supports AMD's fastest Turion X2 processors. However, it is a small laptop and for those users who are more interested in size rather than high-performance features, it includes just about everything you need. The cost for the basic model including a Turion TL-50 processor (1.6 GHz, 2x256K cache), 512MB of RAM, an 80GB 5400 RPM hard drive, and a dual layer DVD-RW burner is $1000. We were initially shipped a similar configuration only with a 60GB hard drive, but we also ran tests on an upgraded version in order to investigate the Turion X2 processor performance. Here's an overview of the basic features.
MSI S271 Manufacturer Specifications
Processor
AMD Turion 64 X2 processor TL-50 (1.60 GHz 2x256K L2)
Chipset
ATi RS485M + SB460 chipset
Graphics
UMA ATI RS485M, 128MB VRAM (ATI Xpress 1100 chipset)
Memory
512MB DDR2-533 SO-DIMM memory
Display
12.1" WXGA (1280x800) widescreen TFT display
PC Card Slot
Express Card x 1
Card Reader
MMC/SD/MS/MS Pro 4-in-1 Card Reader
Hard Disk Drive
80GB Hard Drive (5400RPM)
Optical Drive
8X DVD+/-RW (supports DVD RAM)
LAN/Modem
Built-in 10/100/1000 Mbps Ethernet LAN and modem Module
Wireless LAN
Built-in 802.11 b/g wireless & bluetooth connection
(MSI MS-6855B BT+WLAN miniPCI Combo Card with RALINK chipset)
I/O Ports
15 Pin Mini D-Sub x 1
USB2.0 Port x 3, IEEE1394a Port x 1
Mic-in Port x 1, Headphone Out x 1
Modem Port x 1, LAN Port x 1
Audio
Realtek ALC 882D (headphone + microphone jacks)
Battery
Li-ion 8 cells battery (4400mAHr)
AC Adapter
19V DC, 65W/Input: 100~240V AC, 50/60Hz universal
Dimension
11.93" ( W ) x 8.86" ( D ) x 1.10~1.18" ( H )
Weight
< 4.5 lbs (complete system)
Operation System
Windows XP Home Edition
Considering this is an ultraportable laptop, the feature set is basically what you would expect. It comes with a 12.1 inch widescreen display (1280x800 resolution) and weighs under 5 pounds. MSI lists the weight as 4.5 pounds for the "complete system". We checked the weight of the system alone and with the power adapter and found that their claims appear accurate: we measured 4.6 pounds for just the laptop and 5.2 pounds including the adapter and mouse (on a scale that was only accurate to 0.2 pounds, so the results are within the margin of error).
One of the major problems we have with the basic configuration is the amount of memory included. A primary reason to get a dual core processor is so that you can multitask better, right? Needless to say, better multitasking and 512MB of RAM aren't exactly a match made in heaven. Our initial testing of the platform found it to be extremely sluggish with only 512 MB of RAM -- not necessarily in actual benchmark performance, but in general use we found it to be inadequate. That's one of the problems with benchmarks: they don't always show an accurate picture of real-world use. Opening up a web browser with numerous windows/tabs along with Microsoft Word and Excel quickly uses up all of the available memory. As you begin to push the multitasking capabilities of the processor, you quickly run into a situation where the hard drive is thrashing constantly in order to keep swapping data in and out of virtual memory.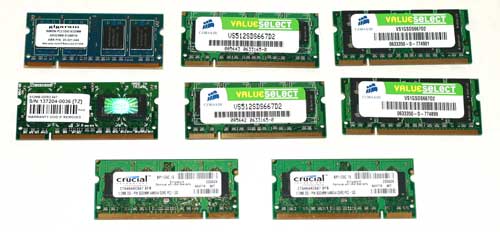 Click to enlarge
The very first recommendation we have for anyone considering this laptop (or any dual core laptop for that matter) is to get at least 1GB of memory, and if you really expect to make use of the multitasking capabilities of the dual core processor going with 2GB of RAM is a good idea, especially with Windows Vista on the horizon. We requested and received some additional memory modules from Corsair and later Crucial in order to test the system with more than 512MB of RAM, and we also requested a faster Turion X2 TL-60 processor from MSI.
Even with the upgraded processor and memory, there's still at least one area where this laptop is glaringly deficient in terms of performance. The integrated ATI Radeon Xpress 1100 graphics (roughly equivalent to the Radeon X300 SE) are at best severely underpowered. We don't have a similar laptop using Intel integrated graphics available, but we have previous results that show the ATI graphics are actually faster than most of Intel's current offerings; however, the difference between extremely sluggish 3D performance and very sluggish 3D performance isn't anything to worry about. Simply put, if you want to run any games other than solitaire, minesweeper, or other casual gaming titles, you will quickly find the included graphics to be unsatisfactory. We don't really find that to be a terrible flaw, as for business and office tasks even slow integrated graphics work fine, and you will still be able to run the Windows Vista Aero Glass interface (although performance will likely suffer compared to discrete graphics solutions).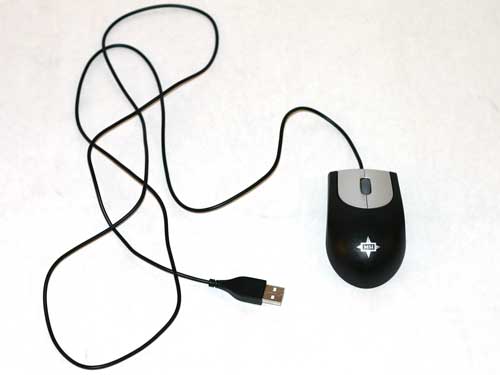 Click to enlarge
One of the nice extras that MSI includes, even if it is a relatively inexpensive item, is a small optical mouse. It probably only costs $10 to manufacture (if that), but it's one less thing you have to worry about purchasing. We are definitely not big fans of using a trackpad if there are any other alternatives available, and although we could complain and say it's not a wireless mouse it's still better than nothing. The laptop also includes other typical features: Gigabit wired Ethernet, 802.11b/g wireless networking, AC'97 audio, and an 8-cell 4400 mAHr battery. Bluetooth networking is also supported.

Click to enlarge
In terms of expansion options, starting on the right you get two USB2.0 ports, modem and LAN ports, and a VGA output. Also on the right is the power connection and the CPU fan vent.

Click to enlarge
Moving to the left is we find an ExpressCard slot, a 4-in-1 flash card reader with support for MMC/SD/MS/MS Pro
(because MS and MS Pro are totally different)
, a third USB2.0 port, and the optical drive.


Click to enlarge
Ending with the front of the unit, you also get the standard headphone and microphone jacks and a min-FireWire port. There are no connections on the rear of the unit.
There are certainly features that are missing relative to other laptops, but if you look at ultraportables the feature set is pretty typical. Unfortunately, cramming all of the necessary computer components into a 12"x9"x1.2" chassis requires some compromises to be made in terms of expansion options and features.