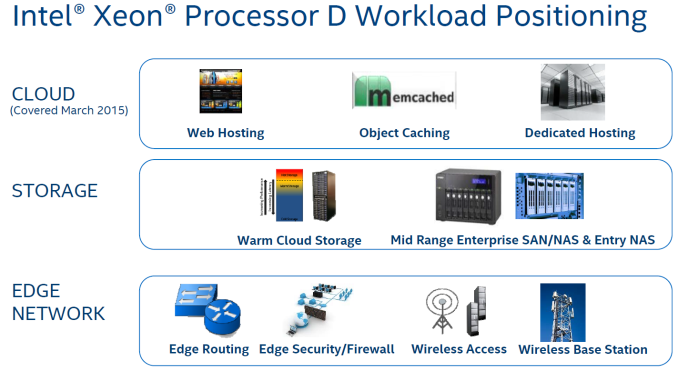 Intel's Xeon D has been one of the most exciting platforms to come out of Intel this year. Xeon D has created more excitement in the micro-server / edge server market compared to the introduction of Avoton and Rangeley (based on Silvermont x86 Atom cores) a few years back. In introducing the 22nm Atom-based server SoCs, Intel clearly delineated different SKUs for different market segments. While Avoton (C2xx0) concentrated on the storage server market, Rangeley (C2xx8) added some communication accelerators that made it a good fit for networking and communication applications.
Xeon D was launched with two SKUs (D1520, a 4C/8T SiP, and the D1540, a 8C/16T SiP) earlier this year. While those two SKUs covered the web hosting applications, today's launches cover the storage and edge network applications. Intel's slide from a presentation made earlier today sums up the various products in the lineup. Eight new Xeons and three new Pentium processors are being launched in the D-1500 lineup and they come in both 45W and 35W TDP versions. Interestingly, Intel indicated that 12-core and 16-core Xeon D SiPs can be expected early next year.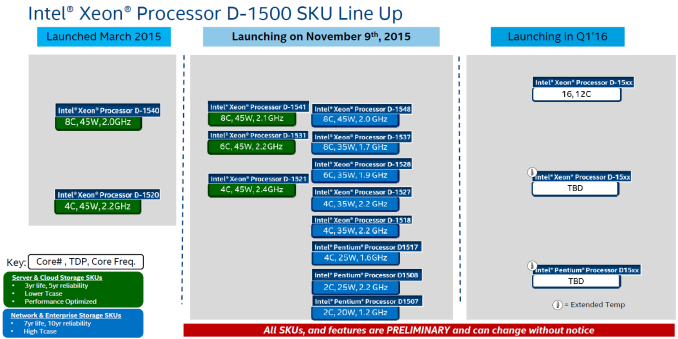 Note: The Pentium D Processors indicated in the above slide were not launched despite being part of the slide set. Currently, there are a total of 10 Xeon-D SKUs (as of Q4 2015).
Patrick at ServeTheHome has a nice graphic summarizing the clock speeds and pricing of these products. The D15x1 SKUs target the storage market, while the D15x7 and D15x8 target the networking / communication segments.
Intel claims that the new storage SKUs provide as much as 6x the performance of the high-end Avoton-based platforms.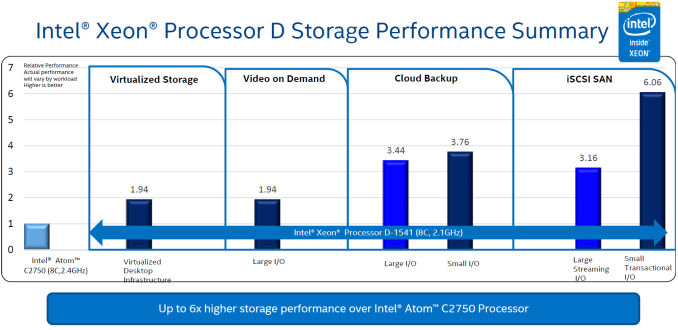 Intel's Storage Acceleration Library (ISA-L) provides accelerators for compression, checksumming, parity calculation and cryptograhic functions (encryption as well as hashing).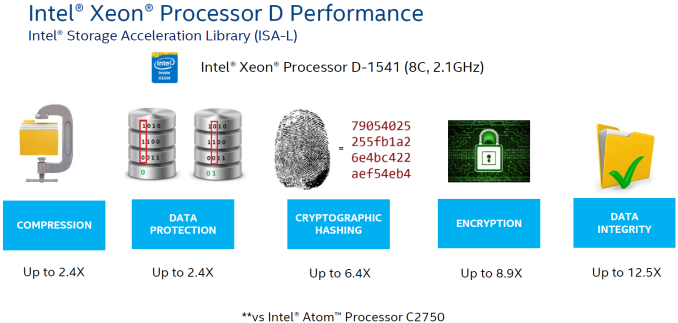 The Storage Performance Development Kit (SPDK) provides better optimization compared to the native Linux drivers - particularly as the number of storage devices in the system ramps up.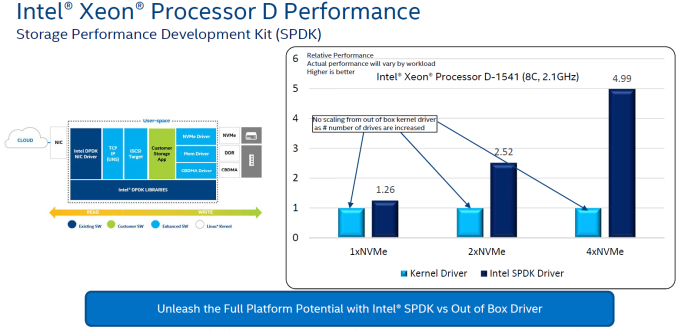 On the networking front, Intel claims up to 5.4x higher performance compared to the Rangeley-based platforms. Intel is promoting their Data Plane Development Kit (DPDK) to achieve better performance for L3 packet forwarding, VM packet forwarding with Open vSwitch, and IPSec forwarding (VPN applications).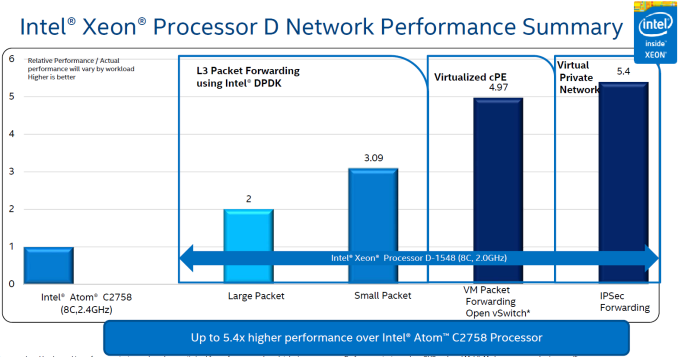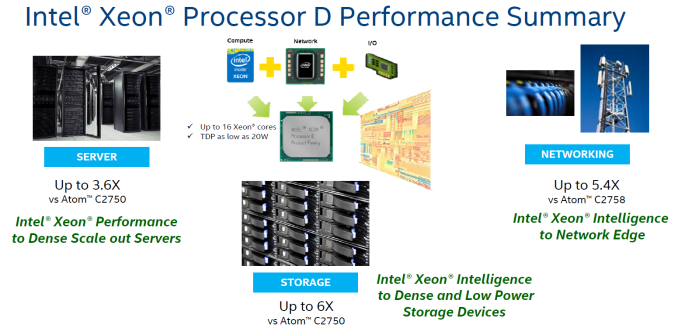 ServeTheHome talks about how the communication accelerators have gained extensive software support since they were launched with the Rangeley SoCs in 2013.
One of the disappointing aspects with respect to the D1520 and D1540 (at least for those intending to use them as virtualization hosts) was the pulling back of the advertised SR-IOV feature. It remains to be seen if the new SKUs have the feature enabled.
In addition to the new Xeon D SKUs, Intel also announced the FM10000 Ethernet multi-host controller family that can provide up to 36 Ethernet lanes. The FM10000 family supports 1Gbps, 2.5Gbps, 10Gbps, and 25Gbps Ethernet ports and the ability to group four lanes as 40Gbps or 100Gbps ports. The integrated Ethernet controllers can be configured as four 50Gbps or eight 25Gbps host interfaces,.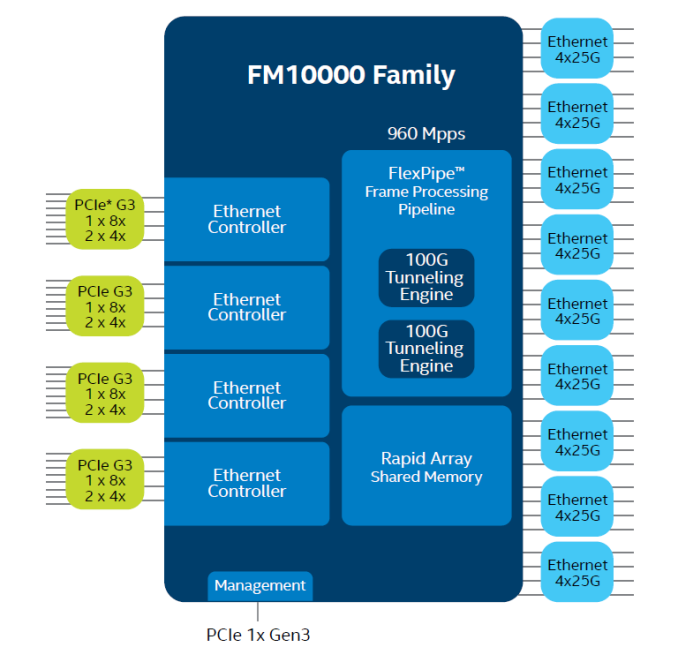 The new X550 single-chip, low-cost 10GbE platform was also launched. It supports NBASE-T technology (for 2.5Gbps as well as 5 Gbps operation, in addition to 10Gbps).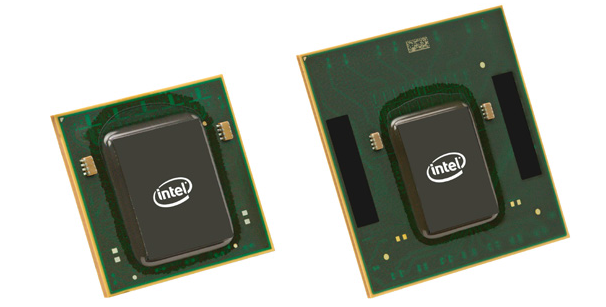 Operating via a PCIe 3.0 x1 / x4 / x8 link, the new 10GBASE-T controller integrates both MAC and PHY in a single package, and comes in both single and dual-port varieties. Power consumption is just 11 W with both 10GbE ports active, making it amenable to passive heatsink thermal solutions.
Source: Intel