Introducing Lian Li's PC-90
The majority of the enclosures from Lian Li that we've tested so far have been designed for mini-ITX and micro-ATX builds, but today we have on offer one of their premium full ATX cases, and it's a promising one indeed. Lian Li's PC-90, which they dub "The Hammer," is designed to support HPTX and XL-ATX motherboards while being smaller and lighter than most other enthusiast cases in its class. And while we'd hesitate to call it diminutive, it's definitely smaller than you'd expect.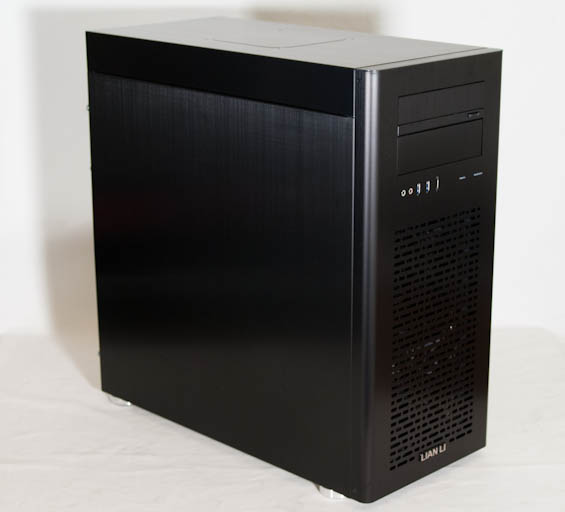 Lian Li aims to offer a lighter, more austere shell for high performance systems in the PC-90, and we can tell you they've been very successful. Without giving too much away, Lian Li's traditional brushed aluminum shell and accompanying aesthetics meet an old school ATX enclosure design complete with top-mounted power supply in a way that offers an intriguing alternative to the larger, bulkier enclosures we're used to reviewing for this bracket. Here's the brief overview.
Lian Li PC-90 Specifications
Motherboard Form Factor
HPTX, E-ATX, XL-ATX, ATX, Micro ATX, Mini ITX
Drive Bays
External
2x 5.25"
Internal
6x 3.5", 6x 2.5"
Cooling
Front
2x 140mm intake fan
Rear
1x 120mm exhaust fan
Top
1x 140mm fan mount
Right
-
Bottom
-
Expansion Slots
10
Front I/O Port
2x USB 3.0, headphone and mic jacks, eSATA
Top I/O Port
-
Power Supply Size
ATX
Clearance
15.5"/400mm (Expansion Cards), 170mm (CPU HSF), 300mm (PSU)
Weight
14.7 lbs (6.7 kg)
Dimensions
9.1" x 19.9" x 19.3" (230mm x 505mm x 489mm)
Price
$200
The PC-90 certainly isn't cheap, but it's most definitely an intriguing design. At just 14.7 pounds it's positively svelte compared to other enthusiast-class enclosures like Cooler Master's Cosmos II or SilverStone's FT02. That light weight owes to the largely aluminum shell and minimal use of steel in the framework. There's also a respectable amount of depth to the case, but as you'll see, that depth is needed.