In many ways, the smartphone platform has evolved following the same kinds of steps we saw in the early days of the PC—lots of different software and hardware platforms, rapidly changing lead players, faster and faster platform update cadence, the slow emergence of obvious majority leaders. Anand and I have talked extensively about just how striking the similarities are between the PC evolution and the current mobile one, but one of the striking differences is just how much faster that evolution is happening in the mobile space. The reason is simple—nearly all the hard lessons have already been learned in the previous PC evolution, it's just a matter of porting that knowledge to mobile under a different set of constraints.
2011 is going to be a year dominated by multi-core smartphone launches, but there always has to be a first. So just like that, we have our first example of said category of smartphone, the LG Optimus 2X, with Nvidia's dual-core 1 GHz Tegra 2 AP20H at its heart. The Optimus 2X (simply the 2X henceforth) hasn't changed much since we saw it at CES—the hardware is aesthetically the same, and software at first glance is the same as well. We weren't able to publish benchmarks at that time purely because LG hadn't finalized the software build on that test hardware, but we definitely can do so now.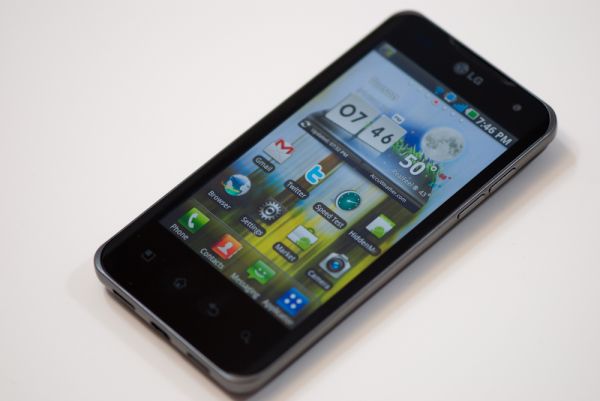 First off are the hardware specs. There's a version of the 2X already shipping on South Korea Telecom which is similar but not identical to the version we were sampled—what we're reviewing is the LG PP990 rather than the SU660. You can look at the specs of that Korean version and compare yourself, but the differences boil down to a few things. The South Korean version ships with 16 GB of internal storage compared to 8 GB like ours, Xenon versus LED flash, likely a different build of Android (more on that later), and a physically different set of Android buttons. The Korean version also has T-DMB for mobile TV. LG hasn't officially announced what carrier the 2X will launch with stateside, nor has it been specific about what UMTS or GSM bands that final version will work with, I'd expect that announcement to happen at MWC. Needless to say, I was surprised that the 2X immediately hopped on HSPA when I inserted my personal AT&T SIM. Regardless, just know that what we're reviewing here is something between the international model and what will be launched in the US. The 2X will launch running Android 2.2.1 and is already slated to move to Android 2.3 at some time in the future.
Physical Comparison
Apple iPhone 4
Motorola Droid 2
Samsung Galaxy S Fascinate
Google Nexus S
LG Optimus 2X
Height
115.2 mm (4.5")
116.3 mm (4.6")
106.17 mm (4.18")
123.9 mm (4.88")
123.9 mm (4.87")
Width
58.6 mm (2.31")
60.5 mm (2.4")
63.5 mm (2.5")
63.0 mm (2.48")
63.2 mm (2.48")
Depth
9.3 mm ( 0.37")
13.7 mm (0.54")
9.91 mm (0.39")
10.88 mm (0.43")
10.9 mm (0.43")
Weight
137 g (4.8 oz)
169 g (5.9 oz)
127 grams (4.5 oz)
129 grams (4.6 oz)
139.0 grams (4.90 oz)
CPU
Apple A4 @ ~800MHz
Texas Instruments OMAP 3630 @ 1 GHz
1 GHz Samsung Hummingbird
1 GHz Samsung Hummingbird
NVIDIA Tegra 2 Dual-Core Cortex-A9 (AP20H) @ 1 GHz
GPU
PowerVR SGX 535
PowerVR SGX 530
PowerVR SGX 540
PowerVR SGX 540
ULV GeForce @ 100-300 MHz
RAM
512MB LPDDR1 (?)
512 MB LPDDR1
512 MB LPDDR1
512 MB LPDDR1
512 MB LPDDR2 @ 600 MHz data rate
NAND
16GB or 32GB integrated
8 GB integrated, preinstalled 8 GB microSD
2 GB, 16 GB microSD (Class 2)
16 GB Integrated
8 GB integrated (5.51 GB internal SD, 1.12 phone storage), up to 32 microSD
Camera
5MP with LED Flash + Front Facing Camera
5 MP with dual LED flash and autofocus
5 MP with auto focus and LED flash
5 MP with Autofocus, LED Flash, VGA front facing, 720P Video
8 MP with autofocus, LED flash, 1080p24 video recording, 1.3 MP front facing
Screen
3.5" 640 x 960 LED backlit LCD
3.7" 854 x 480
4" Super AMOLED 800 x 480
4" Super AMOLED 800 x 480

4" IPS-LCD 800x480
On paper, the 2X is impressive. Highlights are obviously the AP20H Tegra 2 SoC, 4-inch IPS display, 8 MP rear camera and 1.3 MP front facing camera, and 1080p24 H.264 (Baseline) video capture. We're going to go over everything in detail, but starting out the review are our hardware impressions.