Asus Eee PC 1001P: Awesome LCD
Starting with what is arguably the high point of the 1001P, we have our LCD testing results. The Eee 1001P is one of the few consumer systems on the market with a matte, anti-glare screen, and it is truly a revelation in comparison to the overglossed screens on many other systems (Toshiba NB205, I'm looking at you—but there are far more out there like that.).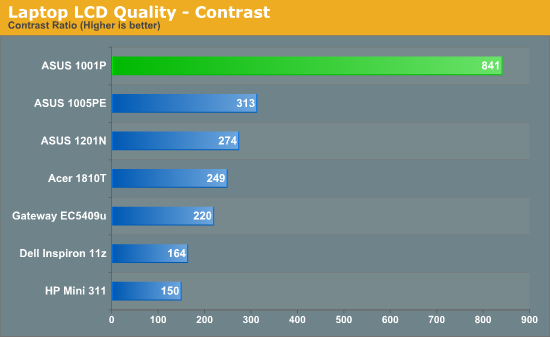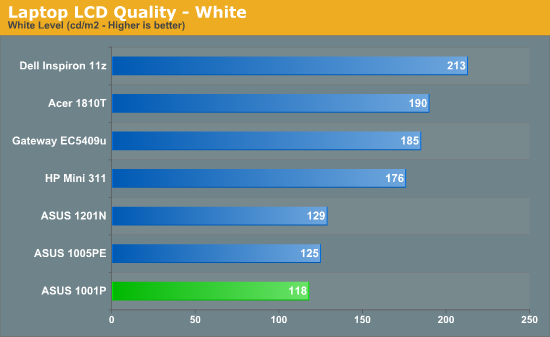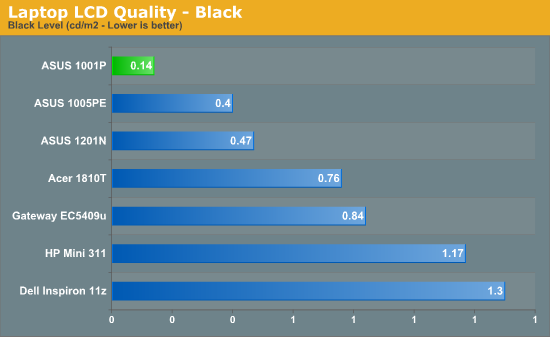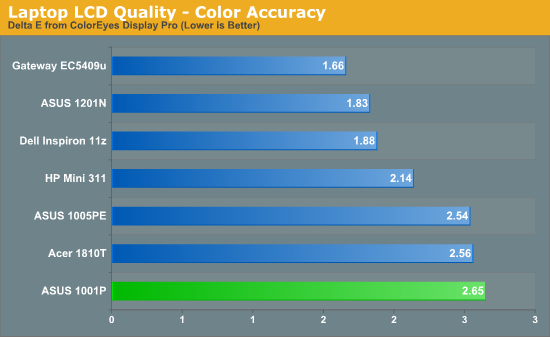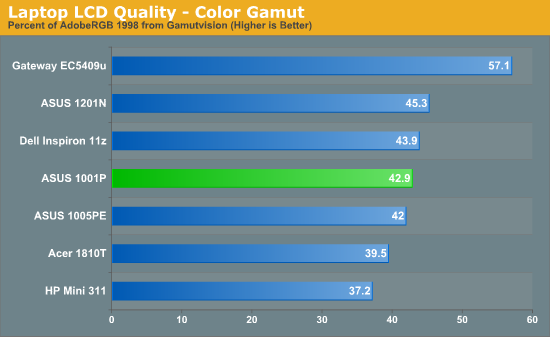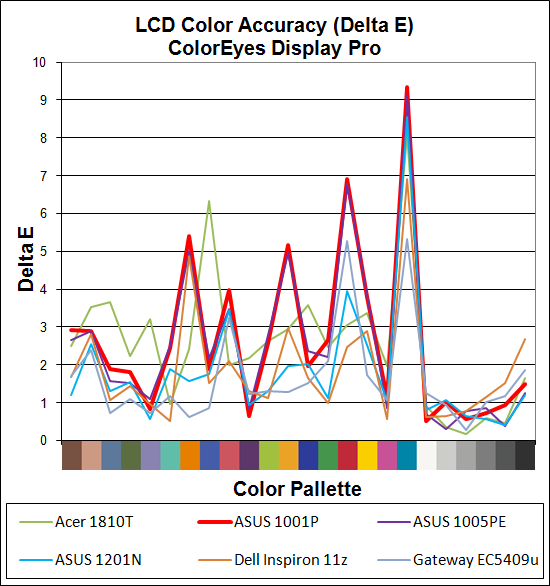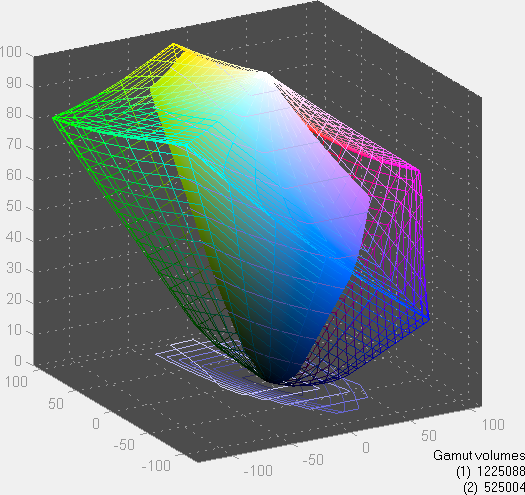 Compared to most other laptop displays, the 1001P has a very high contrast ratio, which is a definite bonus in a budget system such as this one. The black points are much lower than almost all other systems tested, except for the 1005HA. While not as bright as some of the other LED-backlit screens, the 1001P is hardly lacking for brightness, especially with a contrast ratio as good as it has. Interestingly, all of the Asus Eee models have a max brightness of around 125 nits, suggesting that this is an artificial cap set by Asus in the brightness control software, likely for the purpose of conserving battery power. The EeeCTL utility allowed users to increase brightness on previous models like the 1005HA, but sadly development of that tool has halted. Color accuracy and gamut are nothing spectacular, but no one is going to be doing serious video editing or image work on a netbook, so those areas aren't as crucial as the contrast ratio.
In comparison to the 1005PE, the 1001P definitely has a better screen. Asus has assured us that there is only one panel supplier for the 1001P, and other users have reported equally good LCD quality. That is excellent, since the high contrast ratio and non-reflective finish make this one of our favorite netbook displays. Some might prefer a higher resolution, and while we understand that sentiment, 1024x600 on a 10.1" LCD is easier. The .216mm dot pitch is the same as a 14" 1280x1024 LCD, or put another way, if it were a 1366x768 panel, the dot pitch would be a very tiny .164mm—the same as 16" 1080p display. Of course, even if the dot pitch is about right, there's no getting around the fact that 600vertical pixel displays feel very cramped within Windows.