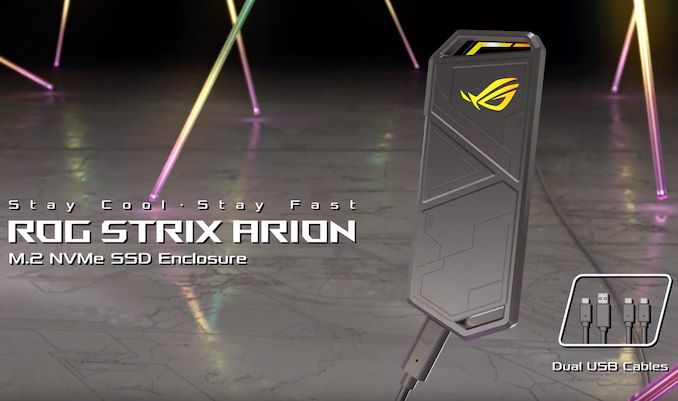 Having extended its ROG products family from motherboards and graphics cards to pretty much everything that could interest demanding gamers and prosumers with deep pockets, ASUS continues to find ways to further expand the ROG lineup. This week the company showcased its upcoming ROG Strix Arion enclosure for M.2 SSDs that features a USB 3.2 Gen 2 interface along with Aura Sync RGB lighting.
The ASUS ROG Strix Arion SSD chassis is compatible with all M.2-2280 (and smaller) drives featuring a PCIe 3.0 interface and do not have a pre-installed heat spreader. The SSD can be installed without using a screwdriver, so the assembly should be quite easy. The enclosure is made of aluminum and has thermal pads in a bid to ensure proper heat dissipation and consistent performance. The unit is bus powered and has a USB Type-C interface, but ASUS will ship it with a USB-C-to-USB-C as well as a USB-C-to-USB-A cable to maximize compatibility.
ASUS does not disclose which USB 3.2 Gen 2-to-PCIe Gen 3 bridge it uses, so we cannot make any assumptions regarding real-world performance of a ROG Strix Arion-enabled storage device. It's possible this is using Realtek's new RTL9210 bridge, since Realtek was showing off the RGB LED driver capabilities of that bridge recently at Flash Memory Summit. Anyhow, in the best-case scenario it will feature up to 1.25 GB/s raw throughput.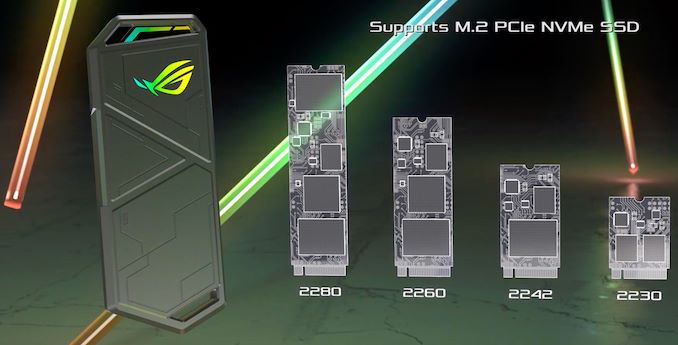 Traditionally for any Republic of Gamers product, the ROG Strix Arion features a rather unorthodox design with Mayan patterns. Meanwhile, following the latest trends, the device has RGB LEDs and supports the ASUS Aura Sync lighting and therefore can synchronize its lighting with other components from ASUS.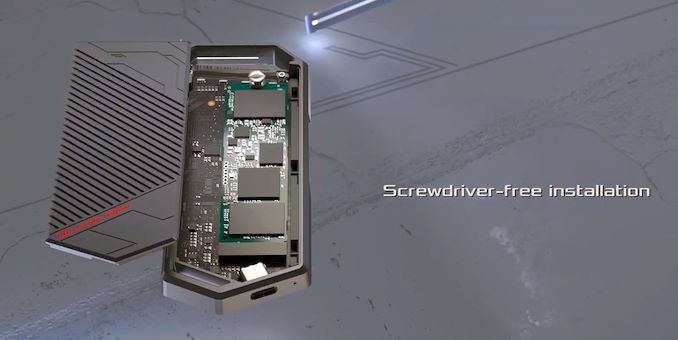 Considering the fact that ASUS is demonstrating the ROG Strix Arion on its YouTube channel, expect the device to be available in the foreseeable future. Unfortunately, we have no idea about pricing of the unit, though without any doubts this is a premium chassis for M.2 SSDs.
Related Reading:
Source: ASUS (via Hermitage Akihabara)