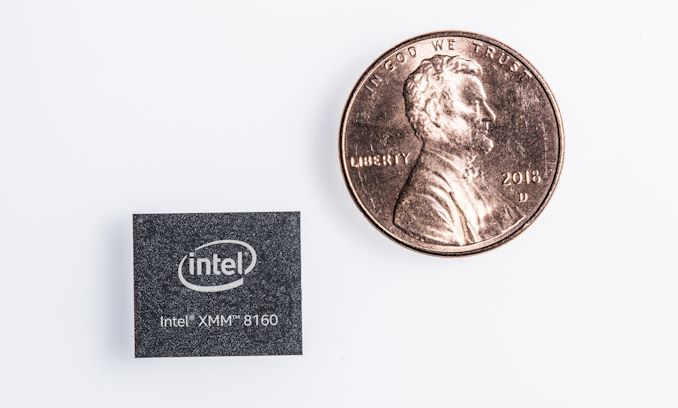 Intel's struggling smartphone modem business has finally found a suitor. This afternoon the company announced in conjunction with Apple that the tech company – and one of Intel's most important customers – would be buying the bulk of Intel's smartphone modem business for a cool $1 billion.
Announced via joint press release from Apple and Intel, the two companies have announced that they have signed an agreement for Apple to buy the majority (but not the entirety) of Intel's smartphone modem business. Under the terms of the agreement, Apple will get Intel's modem IP, related product teams, equipment, and property leases. Importantly, however, the deal only covers smartphone modems; Intel retains some of the critical IP and the option to build modems for non-smartphone uses such as PCs, IoT applications, and autonomous vehicles. This also includes the infrastructure business, where Intel will continue to build 5G solutions for network operations and other large customers.
As per the deal, Apple will pay Intel $1 billion in cash for the smartphone business, and the two companies expect the deal to close in the fourth quarter. For its money, Apple will be picking up around 2,200 Intel employees, as well as Intel's patents related to smartphone modems (including 2G, 3G, 4G, and 5G modems), with Apple now set to hold over 17,000 wireless technology patents once the deal closes. Among other things, Apple now owns IP related to protocols of cellular networks, modem architecture, and modem operation. In fact, some of the IP that Apple is buying was originally developed by Infineon's wireless division (Apple's original modem supplier) over a decade ago.
The purchase of Intel's smartphone modem IP as well as transfer of employees is a very strong indicator that Apple is planning to develop its own modems going forward. To date, the company has remained one of the last users of discrete modems; virtually every other SoC supplier is integrating modems directly into their designs these days, and it stands to reason that Apple will want to go the same direction. While integrated modems do increase SoC development costs and complexity, ditching the stand-alone chip reduces the amount of total board space required for a phone, as well as reducing the amount of power needed to sling data around, two things that Apple has shown to appreciate as they have continued to push the envelope on thinner and lighter phones.
What remains to be seen, however, is how this purchase impacts Apple's chipset supply deal with Qualcomm. When signed earlier this year, the two companies inked a "multiyear" chipset supply agreement, with no further details on what that agreement entails. Chip supply agreements normally bind a customer to buying a certain number of chips in exchange for a guaranteed supply and favorable pricing, so the big question is whether Apple is indeed already committed to buying Qualcomm modems, and if so, for how long. It will take Apple a fair bit of time to produce a modem from their new Intel IP – given Intel's issues, we're not expecting Apple to just start building existing Intel designs – so it will be interesting to see when Apple can actually make that transition on both the technical and contractual sides of matters.
Ultimately, between the earlier Qualcomm licensing deal and today's acquisition of Intel's smartphone modem business, Apple seems to be fully in control of its own destiny as far as modems go; the company now has both IP and personnel it needs to transition away from Qualcomm's modems and use its own designs. Furthermore, the comprehensive wireless IP portfolio will make Apple's position stronger in any potential patent dispute, should one emerge.
As for Intel, while this deal gets them out of the high-profile smartphone modem business once and for all, Intel won't be leaving the modem businesses completely. Intel has retained the option to continue to work on next-gen 5G infrastructure for network operators, telecommunications equipment makers, and cloud service providers. The company also retains critical IP and modem technology and can builds 5G modems for PCs, IoT devices, and autonomous vehicles. If Intel finds that its PC platforms need a 5G modem, it can equip them with an in-house solution – assuming of course that it makes financial sense. At this point however, it's important to note that Intel isn't announcing anything specific regarding future non-smartphone modems; the company is only saying that it has retained the rights to make those modems if it desires.
Closing out Intel's near decade in the smartphone modem business, the group, which the company bought from Infineon back in 2011, was ultimately never as successful as it was in the 2G/3G era. In the 4G era the only big customer that Intel ever landed was Apple, who is a very big customer indeed, but on the bubble at being large enough to sustain a modem development operation like Intel's. And with Intel struggling to get 5G modems out, Intel wasn't able to retain Apple as a customer going into the 5G era. As a result, selling off the business while retaining options to develop modems for next-generation devices would seem to be the most sensible option available to Intel.
Official Statements
Bob Swan, CEO of Intel, made the following statement:
"This agreement enables us to focus on developing technology for the 5G network while retaining critical intellectual property and modem technology that our team has created. We have long respected Apple and we're confident they provide the right environment for this talented team and these important assets moving forward. We're looking forward to putting our full effort into 5G where it most closely aligns with the needs of our global customer base, including network operators, telecommunications equipment manufacturers and cloud service providers."
Johny Srouji, Apple's senior vice president of Hardware Technologies, made the following statement:
"We've worked with Intel for many years and know this team shares Apple's passion for designing technologies that deliver the world's best experiences for our users. Apple is excited to have so many excellent engineers join our growing cellular technologies group, and know they'll thrive in Apple's creative and dynamic environment. They, together with our significant acquisition of innovative IP, will help expedite our development on future products and allow Apple to further differentiate moving forward."
Related Reading: