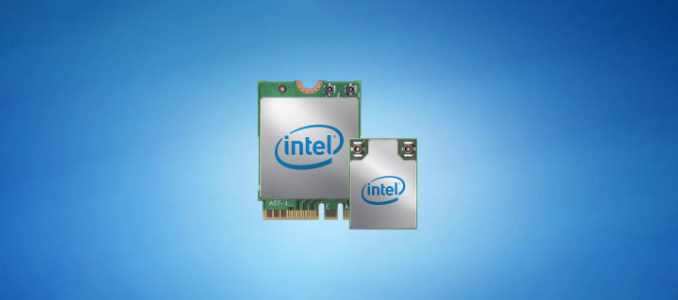 Intel has quietly launched its first Wi-Fi 6 (802.11ax) wireless network adapter, codenamed Cyclone Peak. The new WLAN adapter will deliver up to 2.4 Gbps network throughput when used with a compatible access point, but, like Wi-Fi 6 in general, its main advantage is that it will work better than existing adapters in RF-noisy environments where multiple Wi-Fi networks co-exist.
The Intel Wi-Fi 6 AX200 is a CNVi WLAN card that supports 802.11ax via 2x2 MU-MIMO antennas over the 2.4 GHz and 5 GHz bands. And never found too far from a Wi-Fi card, Intel's AX200 also supports Bluetooth 5.0.
The maximum throughput supported by the Wi-Fi 6 AX200 is a speedy 2.4 Gbps, but the key advantage of the Wi-Fi 6/802.11ax technology is not necessarily peak bandwidth, but rather improved spectral efficiency when working with compatible APs. In particular, the tech adds OFDMA (Orthogonal Frequency-Division Multiple Access) to allow different devices to be served by one channel, by dedicating different sub-carriers for individual client devices. As a result, even existing Wi-Fi 5 (802.11ac) client devices can benefit from a Wi-Fi 6 (802.11ax) AP, though matching Wi-Fi 6 devices will deliver the best results.
The Wi-Fi 6 AX200 devices come in M.2-1216 or M.2-2230 form-factors, interacing with host PCs over a combined PCIe 3.0 x1 (Wi-Fi) and USB 2.0 (Bluetooth) connection. The adapter should be compatible with all existing desktop, laptop, and tablet PCs that support CNVi WLAN solutions. CNVi itself is relatively new – the roll-out plans for it were disrupted by the quasi-cancelation of Intel's 10nm Cannon Lake processors – but will be growing in number as Intel launches more CNVi-capable chipsets and platforms.
Intel's web-site says that the first Cyclone Peak wireless network adapter has been launched, so the device is available to makers of PCs. Depending on the order, the Intel Wi-Fi 6 AX200 costs Intel's customers from $10 to $17.
Related Reading:
Source: Intel (Thanks, SH SOTN)